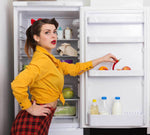 Yeah, we know, every day is a good day to be saucy.
As hot sauce lovers, we don't wait for an excuse to load up on saucy goodness or splurge on a new hot sauce for our collection. But, if you need some sort of reason before you can jump on board, here it is:
March is National Sauce Month.
Keep in mind, this isn't limited to hot sauces. March is an equal-opportunity sauce month. If mustard sauces are your thing, we say go for it. Need a BBQ sauce that'll make your mouth sweat as much as a smile, here you go.
There's no right or wrong way to enjoy National Sauce Month. But that's not going to stop us from making a few suggestions.
Now's the time to try out and stock up on sauces so your fridge is full of condiments, and perhaps a bit of bread to try each one taster style.
Challenge yourself to get through as many open bottles of sauce as you can. Call it early spring cleaning if you need an excuse to make every meal about the sauce.
Try out a new sauce or two. As humans, our taste preferences change over the years. You might find you like something new now, or that your heat tolerance has increased without notice.
Make your own sauces. While we love a little innovation, you don't need to be a kitchen whizz to whip up your own batch of hot sauce. Our Mad Dog 357 Pepper Purees make it dead easy for you to concoct your own wild sauces to celebrate (or, you know, just because).
Throw a sauce-themed party and make everyone bring their favorite sauce to try. Or, better still, a dish made with the sauce that makes the tingle from head to toe. You already know you'll be a champion with the Mad Dog recipe blog to back you up, whichever hot sauce you prefer.
Or, hell, just do what you normally do. We already know you're a terrific ambassador for a saucy world. That's why you're here, right. That and picking up another bottle of Mad Dog hot sauce, right?