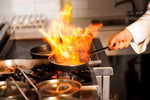 We're big fans of fresh produce. Which chili farmer that you know of isn't a fan of it?
We love when our fruits and vegetable are harvested around the corner and shortly before we pick them up. That's the best.

Ask any chef or farmer and you'll get the same answer.

But, we'll also admit that some seasons just aren't as thrilling as the others. Okay, we'll just throw it out there: if you live where it snows in winter, that's the problematic season. And that's when canning seasonal vegetables make perfect sense.

Sure, you can pick up canned tomatoes from the shop, but these will never compare to the veggies you canned yourself. You'll get the freshness and the seasonings you want in every jar of freshly-canned produce.
And you know what that means, right?

A little Mad Dog in the mix – before you even scoop it into your sterilized jars. (And probably again after you open it. Because you're a crazy serious chili head, right?)

Super hot sauce works so well with vegetables, not only because of the flavor it adds, but because of the flavor, it evokes out of the veggies themselves. That makes Mad Dog a friend to all sorts of seasonal cooking.

Basically, it's the one thing you absolutely need to transform any vegetable dish from seasonal staple to sensational. Don't let anyone tell you that cheese is the secret ingredient; it's all in the hot sauce.

Whether you're steaming artichokes in the spring or roasting sweet potatoes in the fall, you can count on Mad Dog. Once you've got the hang of keeping Mad Dog in the cupboard and picking up your veggies from the farmers market around the corner from you, it's time to find a few recipes merging the two.

And, yeah, we've got those. And, yeah, some of them have cheese. Oh, and if you're interested, a lot of them feature bacon too. Just take a look at these fiery and fantastic Mad Dog recipes.

Looking for the one thing that transforms seasonal into sensational?

It's Mad Dog hot sauce. Or pepper puree. Or extracts. Or peppers. Whatever you choose, you can be sure you'll get plenty of fire and flavor.