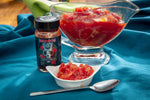 You actually can't imagine how delicious this simple chutney recipe is.
Our Mad Dog 357 Reaper Pepper Puree adds an inescapable and indescribable heat, while the sugar and vinegar add both sweet and sour elements to the richness of the tomatoes.
You'll need some time, but that's about all you'll need. You probably have everything else tucked into your kitchen cupboards.
If you're missing the Reaper Pepper Puree, we can help you with that. On the other hand, if you eat this all in one sitting, spooning it onto toast, carefully avoiding dribbles down your chin, that's on you. Of course, we suggest pairing with just about anything fried – fries, onion rings, samoosas.
Or anything you have kicking around your store cupboard.
Makes:+/-2 cups
You'll need:
1-2 teaspoons Mad Dog 357 Reaper Pepper Puree
2 cans (14.5 oz.) diced tomatoes
1 onion, diced
3 cloves garlic, minced
½ cup apple cider vinegar
¾ cup light brown sugar
1 teaspoon salt
¼ teaspoon each: cinnamon, cloves
Preparation
Place the Mad Dog 357 Reaper Pepper Puree along with all the remaining ingredients into a large saucepan over medium heat. Stir to combine. Simmer for about 1 hour, stirring occasionally, until the mixture thickens into a chutney-like consistency.