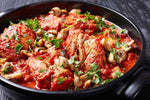 If you're looking for some new inspiration to satisfy your taste for spicy food, you're in luck!
While some
Mediterranean food
isn't so spicy, there are other recipes with a bit of a kick. Some traditional recipes take veggies and grains up a notch with extra spices. Oftentimes you'll see paprika, black peppers, cumin, cloves, and other spices mixed in to give a little heat to stews, soups, and other dishes.

You'll probably find fruit and veggies, grains, olive oil and aromatic herbs introduced with Mediterranean-style cooking. The most consumed food in the Mediterranean is plant-based, but some meat is used in moderation. Rather than reaching for salt, onions, garlic, herbs, and spices are commonly used. Many of the recipes featured include peppers, with varying degrees of heat from the hot pepper scale.

Cacciatore
Spicy peppers help give a little extra spice to cacciatore. While beef cacciatore recipes do differ, in southern Italy the dish commonly includes spicy peppers, olives, and anchovies.
Calabria
Calabria is a spicy dish made from Calabrian peppers. This cayenne-like chili is crushed and dried. The spicy selection is oftentimes served in restaurants and is a good option during cooler weather.
Bucatini all amatriciana
Bucatini all amatriciana is a common Mediterranean dish which uses guanciale and red pepper flakes to spice up tomato sauce over pasta. The Italian dish sometimes includes cheese, olive oil, and onions, too.
Speca te mbushur me salce kosi
If you need a side dish, speca te mbushur me salce kosi is a popular selection in Albania. Essentially a stuffed pepper, the menu item starts with a pickled green pepper, which is then filled with sour cream.
Shakshuka
If you're preparing breakfast, shakshuka is an option that mixes poached eggs in with a spicy tomato sauce. This filling breakfast meal begins with fresh red tomatoes, which are stewed in olive oil, a jalapeno pepper, smoked paprika, cumin, and then topped off with poached eggs.