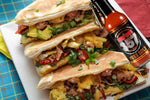 Yep, this is breakfast done right.
It's everything you want in a breakfast sandwich, all covered with melty cheese and plenty of heat from our Mad Dog 357 Pure Gold Hot Sauce.
Is there anything you don't love about this recipe for 4 panini sandwiches?
We didn't think so.
Really, this is the sort of recipe that'll get you out of bed early on the weekend – though, of course, it doesn't take that long to prepare – as long as you've got a sandwich press or panini maker handy.
If you're looking for another reason to run out and buy these ingredients immediately – how about the fact that August is National Panini Month? (We're sure you can come up with another clever excuse for any other month of the year.
Ingredients
 1-2 teaspoons Mad Dog 357 Pure Gold Hot Sauce
1 cup Pesto
4 each Pita bread, halved
¼ cup Butter, melted4 each egg, scrambled, cooked
2 cups Sharp cheddar cheese, shredded
2 cups Monterey Jack cheese, shredded
2 cups Mozzarella cheese, shredded
2 each Pork sausage patties (or pork sausages), chopped, cooked
4 slices bacon, cooked
2/3 cup Roasted red pepper
4 stalks Scallions, sliced
Preparation
Preheat the Panini press. In a small mixing bowl, combine the Mad Dog 357 Pure Gold Hot Sauce with the pesto and set aside.
Spoon the butter over the outer halves of each pita bread. Spread the Mad Dog pesto alongside the inner halves of the pita bread. Top the pesto side of half of the pitas with the remaining ingredients and place the remaining pita bread halves, butter-side up.
Place sandwiches on your panini press and bring down the upper cooking element; cook for 3-5 minutes, until the cheese is melty and the pita is crisp.