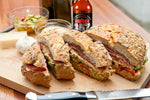 Are you ready for some playoff action?
Want to taste an exquisite blend of Mad Dog, Mediterranean flavors, and the good 'ole fashioned sandwich? Of course, you do! And this quick to prepare lunch will wow everyone this weekend. (And it makes an incredible snack for later). Feel free to make substitutions on any of these ingredients – or add in more of your favorites.
As long as it's got Mad Dog, it's going to be good.
Ingredients
1 tablespoon Mad Dog 357 Pure Gold Hot Sauce
½ cup Hummus
3 tablespoons Olive oil
1 cup Zucchini, sliced
2 medium Red peppers, sliced
1 large Onion, sliced
1 clove Garlic, minced
1 large Round country loaf
8 ounces Mozzarella cheese, sliced (or try Grana Padano for a stronger flavor)
8 ounces Salami or ham, sliced
2 tablespoons Balsamic vinegar
Preparation
Mix the Mad Dog 357 Pure Gold Hot Sauce with the hummus and set aside.
Heat the oil in a large frying pan over medium-high heat. Add all the sliced vegetables and cook, stirring frequently until soft. Add the garlic and cook for an additional 30 seconds, until the garlic is fragrant. Remove from the heat.
Slice the top off the round loaf. Spread the cooked veggies in an even layer on the bottom of the bread. Pour over any oil remaining in the pan. Add an even layer of cheese, followed by the Mad Dog hummus, and then a layer of meat. Pour over the balsamic vinegar and replace the top of the bread.
Wrap the entire loaf tightly in plastic wrap. Place in the refrigerator with an upside-down plate covering the sandwich (and a can or two to press it down). Leave to chill for at least 90 minutes, but as long as overnight before slicing and serving.