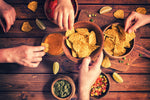 If you feel like you're always trying to spice up snack time, you're probably not alone.
New research shows more and more people are reaching for hot sauce and spicy snacks. According to a recent Instacart survey of more than 2,000 adults in the US, about 74-percent admit to topping off their food with hot sauce. Almost half of them say they use it at least once a week. Because most people have their favorite brands, Instagram looked at its own purchase data and came up with the most frequently purchased hot sauce in every state. The survey found about 67-percent of people are loyal to their favorite brands.
Still, there are some brands of hot sauce that are gaining in popularity right now
As they bring in more flavor, and sometimes a greater standing on the Scoville Scale. The Food Institute recently analyzed IRI data, and found over the past year or so, grocery store hot sauce/Cajun sauce sales were up by more than five-percent. When just looking at about a year of grocery store sales, it came close to $790-million worth of hot sauce. If that sounds like a lot, it is! About a year earlier, Instacart customers purchased more than 444,000 gallons of hot sauce.
Sales are flaming hot, but hot sauce isn't the only thing spicy food lovers are snapping up.
Major snack food companies say they're also seeing a boost in sales for spicy, salty snacks. Take a stroll down any grocery store snack aisle and you'll probably see some spicy variations of some of your favorites. Ruffles brand potato chips now come in flavors like "Flamin' Hot", "Flamin' Hot Cheddar & Sour Cream", "Flamin' Hot BBQ" and "Jalapeno Ranch". You can also grab a bag of Doritos "Flamas", "Flamin' Hot Nacho", or even "XXTRA Flamin' Hot Nacho" chips. According to the company, "Flamin' Hot" Cheetos are extremely hot right now, especially with Gen Z.