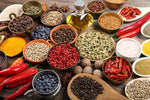 If you just can't get enough of eating spicy foods...
You may be doing more than just adding a little extra flavor to mealtime. Taking a trip up the hot pepper scale certainly makes eating more exciting, but it turns out spicy food can also do a body good. There are several key health benefits to adding some extra spice to your diet, but to keep it simple we've boiled it down to four of the top health benefits of eating more spicy food.
Kills off harmful bacteria
To begin with, some research shows eating more spicy food can help kill off harmful bacteria in your body. Specifically, turmeric and cumin have powerful antimicrobial and antioxidant properties.
Metabolism boost
If you want to increase your metabolism and curb hunger, try eating more spicy food. Other research shows eating peppers, chilis, turmeric, cinnamon and cumin can slow down your appetite and increase your metabolic resting rate.
Reducing inflammation
Curcumin in turmeric may also help your body reduce inflammation. Products like garlic and ginger have been used successfully in the past to help with things like the common cold, autoimmune disorders and arthritis.
Increased longevity
Eating more spicy foods could also help you live longer. A few years ago, a study found people who ate spicy food at least once a day, six or seven days a week, had a lower mortality rate.

While that's certainly a great list of health benefits, there are other advantages to eating spicy food, and researchers are consistently coming up with new reasons to support turning up the spice. If you want to add more spicy foods, you can head to your spice cabinet, use raw peppers or use any one of the many hot pepper products out there. How adventurous you are on the spice scale is entirely up to you and your taste buds.