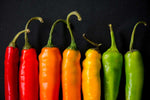 Meet Serrano.
She's a gorgeous chili from Mexico, from mountains around Hidalgo and Puebla, to be exact. You'll find her fairly easily in supermarkets across the world. And, although she won't bite your head off, Serrano chilies do have a little kick.
How hot are serrano chili peppers?
You won't find Serrano rubbing shoulders with super-hots like Reapers or Ghost peppers; there's an enormous difference in heat levels.
Serrano chili peppers fall between Jalapeño and Cayenne peppers, which should give you an idea just how mild they really are.
Typically speaking, a Serrano ranges between 10,000 and 23,000 Scoville. For reference, Jalapeño usually sit around the 5000 Scoville mark. Cayenne peppers, on the other hand, sits somewhere between 30,000 and 50,000 Scoville Heat Units.
It's easy to see why Serrano are an easy choice for chili heads at the beginning of their foray into hot as hell chilies and fire flavors.
Don't confuse Serrano peppers with Jalapeños
If you're standing in the shop, however, it's very easy to confuse Serrano with her Jalapeño cousin. They're very similar in appearance, though a Serrano chili is a little more petite. Typically, she grows between 1 and 4 inches in length, and they're about half and inch wide.
Before they're fully ripe, Serrano are green chili peppers, though they can blossom into a range of fall colors like yellow, orange, red and brown. But, you'll still find plenty of fully ripe green ones in the mix.
One thing you should know about Serrano, though, is that they're very meaty; it's tough to squeeze them flat between your fingers. And, they're not especially great for drying for just that reason.
What's the best way to eat Serrano chilies?
If you're anything like us, you won't mind snacking on raw Serrano. It's the little kick that makes you smile when you do.
Unsurprisingly, Serrano are great for fresh salsas, but you can also add them to cooked sauces for a smooth chili pepper heat and flavor. Through a few into a pan with a stir fry. Or, add them to a sheet pan of roasting vegetables to make a side dish no one can stop eating.
Are Serrano too mild for your taste?
We've got the hottest hot sauces, dried chilies, extracts, chili powders and pepper purees in the world. When you're ready to move past mild and into new blazing territory, we're here for you.