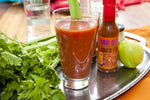 A serious summer brunch calls for two things: one hell of a food spread and something to wash it down.

The food part is relatively simple; pick a few of your favorite breakfast dishes (you know, the kind that doesn't require you to fry eggs one at a time), add a couple of go-to lunch recipes and you're set.
What to drink, however, poses a problem unless you're running a full bar at home.
If you're like oh-so-many people, you're probably staring down Mimosas or Bloody Mary's.
Obviously, we're big fans of any drink or cocktail that demands hot sauce. And, we've got a gourmet Bloody Mary recipe that'll absolutely blow you away. The secret is in the sauce: Liquid Fire to be specific.
Then again, the moves Michelada's are making these days could just sway us away from the tried and true classic. Had one? It's tomato juice, lager,
lime juice
, a little bit of Worcestershire sauce and… you guessed it… hot sauce. When it's done right, you'll get a salted rim with a dash of chili powder.
Sound brilliant? It absolutely is, especially when you mix in plenty of Mad Dog hot sauce. Which one? We'd go Scorpion, but a little Pure Ghost could do the trick.
tomato juice or Clamato, chilled Mexican lager, lime juice, hot sauce, and a dash of Worcestershire sauce, topped off by chili powder and a sea-salt rim.
Of course, you can still make the most of your bubbly addiction with our Bring You to Your Knees Champagne. It won't be a Mimosa, but that's more than okay. You'll fall in love with a single sip of this Ghost Pepper Extract Tequila Edition laced cocktail.
And if you're looking to make the most of your bottle of Ghost Pepper Extract Tequila Edition, you can always make the move to
Mad Dog Margaritas
.
Now that you know, it's back to figuring out the food you'll serve. But we have that covered too.
Need more Mad Dog?
Whether you're planning a summertime brunch or sundowner drinks with your friends, you'll need the perfect hot sauce to perfect your spicy cocktails. We can help with that.