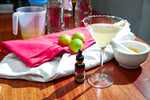 You know you've been waiting for this recipe.
It's only obvious that you should blend some Mad Dog 357 Ghost Pepper Extract Tequila Edition with everything else you need for a tasty margarita. And, we've finally obliged with this brilliantly fiery cocktail. This recipe makes two margaritas in a shaker, but as long as you've got the extract and tequila you can make as many as you want…
Or can handle.


Ingredients

For the Sugar Syrup
1 cup sugar
1 cup water
(or any equal measurement of the two ingredients)

 For Margaritas

¼ - ½ eye dropper Mad Dog 357 Ghost Pepper Extract Tequila Edition
3 FL oz. Tequila
½ - 1 teaspoon Triple Sec (or another orange liquor)
2 FL oz. freshly squeezed lime juice
1 FL oz. Sugar syrup
Ice cubes

Preparation

Make the sugar syrup by stirring together the water and sugar until the sugar is mostly dissolved (yes, it will be thick).

In a cocktail shaker, mix all the ingredients for your Mad Dog Margaritas and shake for 30 seconds to a minute. (It's likely to be ready when the shaker becomes frosty.) Pour into two glasses and enjoy (responsibly).

If you want to jazz the presentation and flavor, mix the zest from one lime, 2 tablespoons kosher salt, and 2 tablespoons of sugar. Stir well. Swirl the edge of your glass in this mixture before pouring in the mixed margarita.