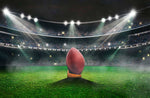 Your favorite team may or may not be in the big game this year, but that doesn't mean you can't score some major points with your Super Bowl food.
Here are just a few of the best Super Bowl appetizer options that are sure to have foodie fans cheering for more.
Queso dip
Dips are a staple of any watch party, and you can't go wrong with queso! Start with some sharp cheddar cheese and cream cheese, then add in some fresh veggies and, of course, some hot peppers. You can play around a little with the spice level until you come up with just the right blend. You can also try making queso in your slow cooker to save some time.
Jalapeno poppers
Jalapeno poppers are another good choice for appetizers. You can make your own by mixing up some cream cheese, mozzarella and Swiss cheese, plus whatever else you want to add to create the perfect spicy treat.
Jalapeno popper dip
There's also a version of poppers made into a dip. Just use all the traditional stuffed jalapeno ingredients, mix it together in a dish, then put it in the oven to bake.
Buffalo chicken wings
Buffalo chicken wings also tend to be a fan favorite. For a real crowd pleaser, make sure you have some hot sauce on hand. Like anything else, let your taste buds be the determining factor of how high you go on the hot pepper scale.
Pulled pork tacos
Hot sauce can be a good addition to pulled pork tacos. They're sure to be a big hit, as they can be both spicy and sweet! The best part of all is you can cook the pork overnight, so it's one less thing you need to worry about in the pre-game set-up. 
Loaded nachos
Everyone seems to love nachos, so why not make them part of your Super Bowl spread? You can make the nachos as soon as your guests arrive, or let your guests add the toppings themselves so they're fresh. Be sure and have some sliced jalapenos on hand to give them an extra kick.