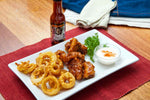 Boneless chicken wings are basically just chicken nuggets slathered in wing sauce.
These are hardly a novelty on American menus. And you can generally get your wings, boneless or otherwise, in a variety of flavors. But sometimes, you just need to make your own. Why? To get that perfect combination of Mad Dog to burn and flavor – without insulting your neighborhood bar staff. We get it. And, this recipe is for you.
We sort of expect that you'll only worry about the sauce (because it does make an excellent dip). But, if you want to go all out, then do your boneless chicken wings from scratch.
They're easier than you think.
Ingredients
For the Mad Dog Boneless Hot BBQ Sauce:
1 cup BBQ sauce (we opted for the Jack Daniels variety here, but you can use your favorite)
2 teaspoons Mad Dog 357 Ghost Pepper Hot Sauce  
1 tablespoon butter, melted
For your own boneless chicken wings:
1 cup all-purpose flour
1 teaspoon Cumin
1 teaspoon Paprika
2 large Eggs
½ cup Milk
4 each Chicken breasts, boneless, skinless and cut into chunks
Oil for deep-frying
Preparation
To make the perfect hot BBQ dipping sauce, simply mix all the ingredients together, stirring until well combined. Enjoy everything from veggies to chicken nuggets.
To make your own Hot BBQ boneless chicken wings, you'll need to prepare a dry coating and a wet coating along with your chicken pieces. Just a note, if you use mixing bowls with fitted lids, you can shake both these coatings on, which tends to be a lot faster and easier. But don't worry, you can also use the method here for terrific results.
In one mixing bowl, add the flour, cumin, and paprika. Set aside. In another mixing bowl, whisk together the eggs and milk and set aside.
Heat plenty of oil in a large pot over high heat, but never fill your pot more than half full with oil. If you only have a small pot, you'll need to fry your boneless chicken wings in batches. It's hot enough when you can brown a cube of bread in about a minute.
Add chicken pieces to the egg mixture and stir (or shake) to coat. Use a slotted spoon to lift chicken pieces and add them to the flour mixture. Stir (or shake) to coat. Then, repeat the process so each chicken piece has been in the wet mix twice and dry mix twice. Carefully add coated pieces to the hot oil. Stir occasionally with a stainless steel spoon to ensure your wings don't stick together.
The chicken will need about 6-7 minutes of cooking and will be golden and crispy on the outside. Test for doneness by removing one piece and cutting it down the center. As long as no pink shows, your chicken is done. Remove all chicken pieces carefully and drain on chicken paper. Then, toss in your delicious hot BBQ sauce. Yum!