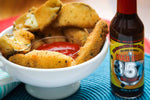 The problem with jalapeño poppers is obvious; they're never hot enough.
 We've fixed that problem with these poppers; we've added Mad Dog to the mix and made it wildly easy to prepare by baking them instead of deep-frying them. And, you'll get about 30 poppers out of the mix. Plus, you can make them as hot as you want, just add more Mad Dog to the mix.
Looking for more reasons to make this? How about the fact that you can add just about any Mad Dog hot sauce to the mix for new levels of heat and flavor. If you mix and match, your possibilities are endless.
Oh, and you couldn't ask for anything more delicious if you tried.
Ingredients
Several drops Mad Dog 357 Original Hot Sauce
1 pound Cream cheese 
1 each Lime, juiced
½ teaspoon Garlic powder 
½ teaspoon Onion powder 
½ teaspoon Cumin 
Salt and pepper, to taste
1 pound Jalapeños, halved lengthwise and seeded
2 cups Milk 
2 cups all-purpose flour 
2 cups Fine breadcrumbs 
Preparation
Preheat your oven to 350°F. Line a baking sheet with foil or parchment paper and set aside.
Combine the Mad Dog 357 Original Hot Sauce with the cream cheese, lime juice, and spices. Season to taste. Use a knife to pack the Mad Dog cream cheese mixture into the jalapeño halves. Try to get the surface as smooth as possible.  Set aside.
Fill a medium bowl with the milk, a separate bowl with the flour, and a third bowl with the breadcrumbs.
To prepare a popper, dip it in milk, allowing the excess milk to drain as you transfer it to the flour bowl. Toss to coat in the flour. Allow it to sit while completing the remaining poppers. Then dip each popper back in the milk before transferring to the breadcrumb bowl. Toss to coat and then place poppers, open side up on the prepared baking sheet.
Place baking sheet in the oven and bake for 15-20 minutes, until golden and the cheese begins to bubble out of its breadcrumb skin. Serve hot.