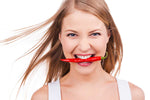 The year has only just started, but you're not alone if you're feeling like you need a little
 

me time.

There's a lot of advertising to suggest that the need for self-care is endemic.

You might be tempted to think self-care is all about bubble baths, pedicures or glass of wine in front of the fire while you relax and forget about your troubles. But we think a different kind of fire will do much more for your health and emotional well-being.

Of course, the fire we're talking about comes packaged in a pretty little bottle covered with some of the scariest artwork you've seen and words you've read. Yep, we're talking about Mad Dog hot sauces.

We've got a couple of good reasons why Mad Dog should be part of your self-care routine too. Along with the fire inside each drop, you'll find a healthy dose of vitamins and antioxidants. Isn't that what self-care is all about? Taking the time to care for yourself?

If you go beyond that, Mad Dog super hot sauces offer an unbeatable high that you're not going to find in any bath bomb or even a glass of wine. Sure, you'll experience the need to dance around with tears in your eyes. You may even sweat a little. But then, you'll feel the sense of peace and accomplishment that should come with every me-time session. The world will look a little clearer, and you may even find the solution to all those stresses you're doing your best to unravel.

Need we say it again? Mad Dog is self-care.

Want to know what's even better?

You can have your Mad Dog, run a bath, drop in the bath bomb, pour a glass of wine, light a fire, and give yourself a pedicure too. There's no reason to trade one for the other.

Need a little me-time? Taking time off for some self-care?

Get yourself some Mad Dog and make it happen!