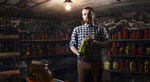 Yes, there is a National Canned Goods Month.
Presumably, February was chosen as it's pushing the end of whatever fresh produce homesteaders can still use before it becomes compost for the next harvest.
But, it's also hella useful for anyone on a budget to make the most of canned goods – in February or any other time of the year.
If you've got a couple of cans plus your favorite Mad Dog super hot sauces, you've got everything you need for feasting on a budget.
Well almost. We suggest a few pantry staples on top of that.
National Canned Goods Month Ideas
Looking for budget meal ideas that'll transform your life (at least your wallet's health)?
Drain a few cans of beans, add few drops of your

 

favorite Mad Dog hot sauce, a splash of white wine vinegar, and a minced garlic clove. Season to taste and enjoy. Add diced, crispy bacon for a splurge.
A can of refried beans,

 

Green Amigo Hot Sauce,

 

and a sprinkling of grated cheese is all you really need to transform a bag of chips into a filling meal for one.
Canned chickpeas easily becomes hummus with a squeeze of lemon, minced garlic, salt, a glug of olive oil, and ½ a teaspoon of

 

Mad Dog 357 Scorpion Hot Sauce. If you've got it, stir in tahini paste for an authentic flavor.
Any can of soup, from tomato to cream of chicken is instantly improved by a few drops of your favorite Mad Dog super hot sauce. You might actually enjoy it as a meal and not just an ingredient in other recipes.
Got a can of creamed corn kicking around in the cupboard? Mix it with 4-5 tablespoons of cornstarch, a sprinkling any of our Pain on a Chain ground chili peppers, and some chopped fresh herbs. Heat a thin layer of vegetable oil in a skillet and fry spoonful's into fritters for a side or snack.
We're certain we don't need to tell you how much better any tuna salad will be once you've added a healthy dose of Mad Dog to it.  
Whether you're hoarding cans in your prepper bunker, you're working with a tight budget or you're just keen on making the most of National Canned Goods Month, a little Mad Dog will make it all better. 
Get more Mad Dog today!