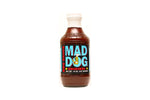 Twenty years in business and 26 sauces later, Ashley Food Company, Inc. continues to beat the odds. The secret to success for entrepreneur David "Mad Dog" Ashley lies in giving customers a reason to come back for more. The original Mad Dog all-natural bbq sauce kicked the company into high gear 20 years ago. Its popularity spawned the expansion into a whole family of Mad Dog sauces over the next 5, 10 and 15-year milestones. Now the #1 rated BBQ sauce by America's Test Kitchen and Cook's Magazine comes in three varieties, Original, Chipotle and Ultra Hot.
Dun & Bradstreet reports, "Businesses with fewer than 20 employees have only a 9% chance of surviving 10 years." Ashley Food Company, Inc. is an exception to the rule.
Sudbury, MA (PRWEB), October 12, 2010 — In honor of the 20th anniversary of Ashley Food Company, Inc., founder David "Mad Dog" Ashley just introduced a family of three barbecue sauces featuring the ever-popular, Mad Dog Original all natural bbq sauce.  The original has the same, rich flavor that ranked it #1 by America's test kitchen and Cook's Magazine. The new Chipotle Mad Dog barbecue sauce has the same heat as the original, award-winning recipe and has a distinctive, new smoky flavor. The Ultra Hot Mad Dog barbecue sauce has been enhanced with added Ghost Peppers making it one of hottest BBQ sauces ever made.
What gives Chipotle Mad Dog bbq sauce its smooth, smoky flavor are large, red ripe, dried jalapeños that are called chipotle peppers. These peppers are the last ones to be harvested so they are brown in color. They are smoked slowly over an open fire for an unmistakable taste. There are many different grades of chipotle peppers.  http://www.ashleyfoodcompany.com [Ashley Food Company, Inc.] uses only high-grade chipotle, the finest money can buy.
When customers asked for an even hotter BBQ sauce, http://www.ashleyfoodcompany.com [Ashley Food Company, Inc.] delivered one of the hottest bbq sauces ever sold.  To intensify the heat of Ultra Hot Mad Dog bbq sauce, the company added Bhut Jolokia otherwise known as the ghost pepper. This pepper comes from India and is 400 times hotter than Tabasco sauce. Ghost peppers are certified by Guinness World records as the world's hottest peppers.
All three varieties of Mad Dog bbq are dedicated to Ashley's good friend, Bear, the chocolate lab who appears on the new label of this family of barbecue sauces.  To lock in freshness, Mad Dog bbq comes in a new, 12-ounce bottle with an unmistakable new logo.
Texas musician Lyle Lovett once compared barbecue sauce to a beautiful woman. He said, "If it's too sweet, it's bound to be hiding something." (The Texas Monthly, June 2008) David Ashley explains why Mad Dog barbecue sauces have nothing to hide. "For 20 years, our hallmark has been to provide all-natural products. We use premium, fresh ingredients and no fillers, no additives and no preservatives. We guarantee this. "
To order Mad Dog bbq sauces, visit http://www.ashleyfoodcompany.com [Ashley Food Company, Inc.], call 1-800-61-SAUCE or email maddog@ashleyfood.com.
For more information about the complete line of Mad Dog bbq and Hot Sauces created by Ashley Food Company, also visit http://www.ashleyfoodco.com [Ashley Food Retail Store] and http://www.ashleyfoodco.com [Ashley Food Wholesale Store].
About Ashley Food Company, Inc.
As President and founder of http://www.ashleyfoodcompany.com [Ashley Food Company, Inc.]   in Sudbury, Massachusetts, David has been creating all-natural, mouth-watering, and award-winning products for two decades come January 2011. All Mad Dog creations are made in hand-measured batches and cooked to perfection. To this day, David ensures that every blend has a fresh-from-the-kettle-taste.
Ashley Food Company produces 26 sauces, from sweet with heat to lethal, including "The world's hottest hot sauce" – 357 EXTREME hot sauce; Mad Dog BBQ sauces, Mad Cat, Teriyaki Hot sauce; industrial extracts, and has recently added Envy, 357 EXTREME Wing sauce and 357 EXTREME Mustard to the line-up. Find the complete line of Mad Dog Hot Sauces and barbeque sauces created by David Ashley at http://www.ashleyfoodcompany.com [Ashley Food Company, Inc.]
Contact:
David "Mad Dog" Ashley
Ashley Food Company
1-800-61-SAUCE
maddog@ashleyfood.com
www.ashleyfood.com