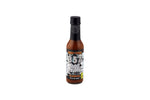 True Taste of World's Hottest Pepper
Sudbury, Massachusetts (PRWEB) November 10, 2008 -- Ashley Food Co., creator of the world's hottest Mad Dog 357 Hot Sauce, has introduced a hot new edition: Mad Dog 357 Ghost Pepper Hot Sauce -- a blend that's bound to warm the hearts and obliterate the tongues of hot sauce collectors everywhere.
357 Mad Dog Ghost Pepper Hot Sauce Master Sauce Crafter and Creator, David Ashley, whose sauces and extracts have won the accolades of heat seekers around the world, says, "In the world of hot peppers, the Ghost Pepper is the king the of the hill. It was only natural to bring it to this super hotline of all-natural Mad Dog 357 Hot Sauces."
Called the Bhut Jolokia in its homeland of the Assam Region of Northeastern India, this pepper was first discovered by Paul Bosland, Professor at New Mexico State University, Regent. Guinness Book of World Records confirmed the finding that the "Ghost Pepper", as it is translated, delivers 1,001,304 Scoville Heat Units (SHU) making it nearly two times hotter than the Red Savina, the prior champion pepper of heat.
Of course, the Ghost Pepper isn't the only ingredient that makes the new Mad Dog 357 Ghost Pepper a hot new contender for heat lovers. The bottle, that can be seen and purchased at ashleyfood.com, also boasts a unique holographic label with ghosts that appear to jump off the bottle. Combined with the fact that the warning label reads loud and clear about the extreme caution, it's easy to see why this sauce will have people seeing their own ghost.
As David Ashley puts it, "The goal has always been to make hot sauces that are not just hot for hot sake, but instead, give heat lovers and sauce collectors sauces with complex flavor combined with true heat." It's one of the reasons why David Ashley says he also has his sauces measured using high-pressure liquid chromatography (HPLC); to not just state the heat, but to prove it as well.
For more information about Mad Dog 357 Ghost Pepper Hot Sauce and the complete line of hot sauces and barbeque sauces crafted by Ashley Food Company, visit www.ashleyfoods.com