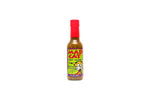 Taste Trend -Boston Herald, Wednesday, May 13, 1998
A drop of Mad Cat Hot Sauce first pussyfoots across your tongue, then makes you yowl.  If you like hot sauce, the slow-building burn makes you want another bite.  And another.  The new, habanero-based sauce is a spin-off from the Dedham-based Mad Dog label.
A few drops of the pale, cilantro-flecked Mad Cat sauce are guaranteed to liven up your summer barbecues.  It is recommended as a condiment for nearly anything--Oriental or Mexican dishes, chicken, pork and seafood.  But, the cross-eyed feline on the label warns, "it is not for pussycats!"
The Mad Cat mastermind is David Ashley, who concocted the original Mad Dog BBQ Sauce at his home in 1985.  The sauce proved so popular with his friends that he started the Ashley Food Company.
In 1995, Cook's Illustrated rated it the best of 11 barbecue sauces.  Now, Mad Dog comes in many breeds--from teriyaki Samurai Sauce to the tongue-scorching Inferno.