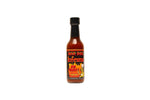 Dedham, Mass., July 15, 1998---The question of which hot sauce delivers the most heat has been a source of fiery debate among chili-heads for years. We have a winner. In a recent scientific comparison of over 100 self-proclaimed mouth-sizzling sauces, it's official Mad Dog Inferno earned the title of "The World's Hottest Sauce."
"Ever since I made my first batch, I knew Mad Dog Inferno was a scorcher of a hot sauce. I have never found a hot sauce that could blow away Mad Dog Inferno," says David Ashley, President of Ashley Food Company. For eight years David Ashley has been producing a line of all-natural sauces and marinades including Mad Dog BBQ Sauce, Mad Dog Samurai Sauce, Mad Dog Liquid Fire Hot Sauce, Mad Dog Green Amigo Hot Sauce, and Mad Cat Hot Sauce.
Burnin' background
Mad Dog Inferno is an all-natural, complex sauce that begins with a sweet, unsulphured molasses base; with red wine vinegar, two kinds of imported cloves and the very best Caribbean spices, hot peppers, and pepper extract. The result is a sauce that packs all the heat you can handle wrapped around a wider range of flavors. Quite simply, it's more intriguing than anything you'd ever expect in a sauce that is true "The World's Hottest Sauce."
With a legal warning on the bottle, about five-seconds after you taste the recommended dose of one scant drop or less, prepare your mouth and mind for five to 20 minutes of agony that all true chili-heads fully understand and appreciate. So what are you waiting for? Join the chili-brigade and indulge in the intense and long-lasting savory eruption that comes from just a drop of Mad Dog Inferno. Because it's so powerful, the average chili freak can get approximately 157,000 mind-blowing, fiery doses in each 5-oz. bottle.
Let's get scientific
Today pepper heat can be measured both organoleptically (that is by taste) and instrumentally. In the latter, an instrumental test uses high-pressure liquid chromatography (HPLC) to determine the amount of capsaicinoids in parts per million, with results reported as "percent capsaicinoid by HPLC." And after all of the sauces in the Mo Hotta, Mo Betta catalog was independently tested at Chromtec, a West Palm Beach Florida laboratory, Mad Dog came back at a super sizzling 89,560 HPLC, which is almost 6,000 units hotter than its nearest competitor. Unlike those sauces that singe in name only, Mad Dog Inferno packs an incendiary burn that just may go beyond its name.
Marlin Bensinger, the owner of Chromtec, has provided analytical lab services to the food and spice industry since 1980. He recently wrote, "The very existence of Fiery Foods Magazine is a testament to the rapidly increasing acceptance of hot sauces and salsas in the American diet. As with many new industries, the rush to meet demand is often accompanied by a lack of controls on the market products. One of these is the claim of pungency value that is used to differentiate hot sauces from each other. Terms like "Devil Sauce," "Volcano Sauce," and "Burnin' Sauce," although colorful and capable of conjuring terrific mental images, often have no accurate relationship to the pungency value when trying to compare food products."