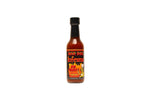 Improper Bostonian, August 12, 1998
Want to know what hot is?  Hot is cracking open a bottle of Ashley Food's Mad Dog Inferno hot sauce and taking a brave yet stupid swig of the omnipotent, uber-Caliente condiment.  Hot is also feeling the pain and suffering throughout your mouth, tongue, throat and eventually your whole body as the liquid fire rushes through your veins and boils your blood.
If you want to experience this pain, try a bottle of Mad Dog Inferno--which recently garnered the title of "The World's Hottest Sauce" by beating out more than 100 self-proclaimed mouth-igniting sauces.  "For years everybody has been claiming to have the world's hottest sauce and they finally put it to the test sand I doubled the next hottest sauce," notes Ashley Food's head honcho, David Ashley, from his Dedham office.
Perhaps the major difference between Mad Dog Inferno and the competition isn't the heat--it's the flavor.  "I actually wanted to make a sauce that was not only hot but had some flavor also…that's why I used something like molasses and two kinds of cloves," says Ashley.  Maybe it's Ashley's fine-tuned palate because we only tasted one thing--fire.