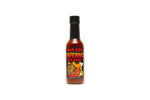 Dedham, Mass., March 5, 1999---Last year, the question of which hot sauce delivers the most heat was answered when Mad Dog Inferno earned the title of "The World's Hottest Sauce."
Looking back, David Ashley, President of Ashley Food Company said, "Ever since I made my first batch, I knew Mad Dog Inferno was a scorcher of a hot sauce. I have never found a hot sauce that could blow away Mad Dog Inferno," For nine years David Ashley has been producing a line of all-natural sauces including Mad Dog BBQ Sauce, Mad Dog Liquid Fire Hot Sauce, Mad Dog Green Amigo Hot Sauce, and Mad Cat Hot Sauce.
Well, guess what? The hot just got hotter.
And the heat goes on!
For the original study, after all of the sauces in the Mo Hotta Mo Betta catalog were independently tested at Chromtec, a West Palm Beach Florida laboratory, Mad Dog came back at a super-sizzling 89,560 HPLC, which was almost 6,000 Scoville units hotter than its nearest competitor. Unlike that sauces that singe in name only, Mad Dog Inferno packed an incendiary burn that went well beyond its name.
"Our Mad Dog Inferno Reserve 1999 is the first hot sauce in the world to add Habanero Chile Extract. So it deserves 'reserve' status," said Ashley. "We have plans to use the extract in other products down the road. But we believed it fitting to debut Habanero Chile Extract by adding it to an established product that had rightfully earned a special place in the hearts and minds of chile-lovers. This is a very special and a wonderful way to debut something that may revolutionize the hot sauce category."
Answering the question, "Just how hot can you go?"  the Scoville rating for the Mad Dog Inferno Reserve 1999 Limited Edition, the latest and now the hottest sauce by fiery leaps and bounds, registered a mind-blowing 150,000 Scoville at Chromtec Laboratory.