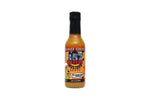 Packin' Ballistic heat and Extreme flavor!
Sudbury, MA. February 2006.  Are you looking for freakin' hot and sublimely delicious mustard that will rescue those mystery meat sandwiches, sorry-sack hot dogs, blasé grilled food and anemic dressings? Look no further! 357 EXTREME MAD DOG MUSTARD has just arrived fresh, scorching and tasty from the seismic vats of Ashley Food Company, maker of the infamous 357 MAD DOG Hot Sauce, the "World's Hottest Hot Sauce".  The demand for incendiary mustard is answered with 357 EXTREME MAD DOG MUSTARD, which may well be "the "World's Hottest Mustard".
Mustard users and mustard non-users become MUSTARD MANIACS with this outstanding condiment that features real Colman's English Mustard, Habanero peppers, fresh ground horseradish, and the hugely popular turmeric. Monster heat marries absolutely voluptuous flavor and results in 360 degrees of complex, full-bodied ecstasy. Walloping Scoville of heat wash over the taste buds and leave a lingering afterglow of heat and flavor. The color is brilliant ochre, the texture stout, and the aroma alone will blow the cobwebs from your head and blast you into an altered state - a galaxy away from regular yellow mustards.
357 EXTREME MAD DOG MUSTARD sets off fireworks in hot dogs, burgers, grill, and meats; dips, dressings, marinades, and sides such as potato and pasta go way, way uptown. Hot dogs become fit for a king, bologna tastes like a million bucks and pastrami becomes a Broadway star.  This mustard's versatility goes everywhere, from brown bag lunches to Asian specialties and fusion sauces.  Whether you bathe foods in it, or "a little dab'll do ya'", this indulgence will quickly become a staple in your refrigerator.  357 EXTREME MAD DOG MUSTARD is truly the Midas touch.
Award-winning Ashley Foods' sauces are made with nothing but top-line, all-natural ingredients from around the world: aged Japanese Tamari sauce, African Chiles, unsulphered molasses and extracts, and FRESH Habanero chiles, Jalapeno chiles, cilantro, lime, onion, garlic and more… all sauces are free of nasty preservatives, crafted in small, gourmet batches with insane devotion and attention to detail.  Other sauces available: 357 EXTREME MAD DOG "World's hottest hot sauce", MAD DOG BBQs, MAD CAT HABANERO, SPICY TERIYAKI, GREEN AMIGO, and IDIOT BOYZ, among others. The recently landed, 357 EXTREME WING SAUCE is flying circles of flames around all other wing sauces, offering skull-busting heat with divine flavor.
357 EXTREME MAD DOG MUSTARD will soon blast into stores offering fine condiments and is now available for internet ordering www.ashleyfood.com.  Suggested retail – $5.99 oz. bottle.
FOR ADDITIONAL INFORMATION, CONTACT:
Dave Ashley, the devoted Master Sauceman since 1991.