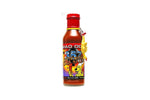 World's hottest wing sauce!
Sudbury, MA. November 2005.  Ashley Foods, maker of 357 MAD DOG hot sauce, "World's hottest hot sauce" has responded to demands for a stoked-up Wing sauce with 357 EXTREME WING SAUCE, "World's hottest wing sauce". This wing sauce possesses heat from Hell for the wildest heat-freak but can be tempered for more civilized folk by mixing it with any favorite sauce or marinade. Chile peppers, smooth butter flavor, and mellow beer buds, the ingredients are fresh, natural and preservative-free, a rich vermillion color, silky smooth in texture.
357 EXTREME WING SAUCE is hand-crafted in small batches  -  Ashley Foods is mad about no-compromise quality and mouth-watering taste. The explosive heat sneaks up and partners with the huge, REAL taste - not that vinegary bite in common wing sauces. More than a fiery sauce to drench chicken wings, 357 EXTREME WING SAUCE can also be added (per taste) to meats, appys, and dips for an outrageous twist or a little kick.  Perfect for Holiday recipes and entertaining. Orders for this sauce piled up even as the sauce was still in careful development.  A prominent Boston restauranteur describes it as "Wing-suckin' delicious".
Award-winning Ashley Foods also makes the popular MAD DOG BBQ sauces, MAD CAT Habanero, SPICY TERIYAKI, GREEN AMIGO, IDIOT BOYZ and others.  357 EXTREME WING SAUCE will soon be landing in fine stores offering premium sauces, and available for internet ordering  www.ashleyfood.com.