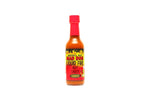 Sauces that'll 'burn' your tongue hot item
Whew!  It's hot stuff all right.
David Ashley of Boston is really into barbecue madness with his line of "Mad Dog" barbecue and hot sauces.  Talk about the heat.  When Ashley holds a sample tasting of his Liquid Fire, an intense, super-hot pepper sauce condiment, he says customers go through a bottle every two minutes.  The product has taken off like crazy, he said.
Yes, there are people who really enjoy scalding their tongues and throats with spicy sauces and ketchup.  At a recent food demonstration at Yankee Spirits in Sturbridge, a customer, having sampled Liquid Fire, dared to ask Ashley: "Do you have anything hotter?  This is great, but I'm really into hotter stuff."
Without any hesitation, Ashley reached for an unmarked bottle of dark liquid and poured a small sample for the customer.
"I haven't named it yet," Ashley said, "but I have thought of something like 'Afterburn.'"
ORDERED A CASE
"This is great," the customer told Ashley.  "Here's my business card.  Send me a case of the stuff when it goes into production."
Ashley said he spent five years perfecting his blends of seasonings and heat levels to offer mild, original and ultra-hot versions of the tomato-based sauce.  They contain unsulphured molasses, soy sauce, hand-ground African peppers, hickory flavoring, and secret herbs.  The products are sold in area supermarket chains, specialty shops, and liquor stores.
Ashley's sauces, which are made in Boston, can be used for grilling, broiling, marinading and dipping.  He offers recipe brochures.
Ashley's "My Mad Dog Original Barbecue Sauce" won first place in People's Choice at the 1992 Pig and Pepper Harvest in Boston.  His soy-based "Mad Dog Samurai Sauce" is one of his newest products. For more information, contact Ashley at 1085 Commonwealth Ave., Suite 306, Boston, Mass. 02215.
This week, Ashley and his wife, Mary Ann, are attending the annual International Fancy Food and Confection Show at the Jacob Javits Convention Center in New York, where they are introducing their product line to buyers.
The Barbecue Industry Association reports that 92 percent of grill owners use barbecue sauce at least some of the time when they cookout.  Hot or mild, anything goes.