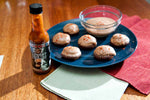 We know you've been waiting for the perfect Mad Dog dessert and here it is.
Chili and chocolate make a perfect combination and this one is decadent. You're going to flip for these cupcakes. Now, the recipe does require a few extra steps than we like to give in a Mad Dog recipe, but it's totally worth it.
You'll get at least a dozen full-sized cupcakes from this recipe – or several mini ones.
Ingredients:
For the frosting
1 scant teaspoon Mad Dog 357 Pure Ghost Hot Sauce
12 ounces Semisweet chocolate, roughly chopped
1½ cup Heavy cream
½ stick Butter

For the cupcakes:
1 teaspoon Mad Dog 357 Pure Ghost Hot Sauce
4 ounces unsweetened chocolate, roughly chopped
¼ cups Dark cocoa powder
1¼ cups Water
1¼ cups Cake flour
1 teaspoon Baking soda
¼ teaspoon Salt
2 sticks Butter
¾ cups Sugar
4 large Eggs
½ cup Sour cream
1 teaspoon Vanilla extract
Preparation:
Prepare the frosting first; it takes some time to set. Combine the hot sauce and chocolate in a medium and set aside. In a medium saucepan, heat the cream and butter together over medium heat, until butter is melted and cream bubbles around the edge of the pot. Pour the heated cream and butter over the chocolate mixture and let sit for about 30 seconds. Start whisking the mixture until smooth. Set aside, but stir occasionally with a wooden spoon. It will reach piping consistency within an hour or two.

For the cupcakes, combine the hot sauce, chopped chocolate and cocoa powder in a medium bowl and set aside. Boil the water and pour the water over the chocolate/cocoa mixture, then whisk until smooth. Sift the flour, baking soda, and salt into a bowl and set aside. Use a mixer to beat until creamy. Add the sugar and beat for about 3 minutes until fluffy. Add eggs, one at a time, beating well after each one. Add sour cream and vanilla and beat until combined. Add about 1/3 of the flour mixture, beating just until the flour starts to incorporate, then add about 1/2 of the chocolate mixture, beating just until this starts to incorporate, as well. Alternate between the flour and chocolate until all is added, but DO NOT overbeat.

Transfer the batter into cupcake tins and bake for 15-18 minutes, until a toothpick comes out clean. Leave cupcakes in pan for 5 minutes, then transfer to a wire rack. Cool completely before frosting.