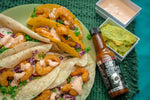 Everyday Fried Shrimp Day, you definitely want to sink your teeth into this incredible, hot as hell, recipe.
Okay, maybe it's not so hot, after all, we've blended our Mad Dog 357 Pure Ghost Hot Sauce with plenty sour cream (sounds good already, right?), but there's nothing that says you can't (and shouldn't) add more. Indeed, we strongly suggest an extra drizzle of Mad Dog 357 Pure Ghost Hot Sauce.
This recipe serves 2 easily, but you can double or triple it if you have a lot of hungry-for-fried-shrimp folks hanging about.
Ingredients
For the Mad Dog cream sauce

1-2 teaspoons Mad Dog 357 Pure Ghost Hot Sauce
1 cup Sour cream
1 Lime, juiced
1 teaspoon salt

For the slaw

1 cup Red cabbage, julienned
1 cup Green cabbage, julienned
Salt, to taste

For the beer-battered shrimp

Oil, for frying
1 cup Flour
1 teaspoon Garlic powder
1 teaspoon smoked paprika
1/4 teaspoon Cayenne
1/2 teaspoon Baking powder
1 cup Beer
1 pound Shrimp, peeled and deveined
 To serve
Flour or corn tortillas
Guacamole
Radishes, sliced
Cilantro, chopped
Preparation
In a small bowl, combine the Mad Dog 357 Pure Ghost Hot Sauce with the sour cream, lime juice, and salt. Mix well. Set Mad Dog cream sauce aside
In another bowl, combine the cabbages with about 2 tablespoons of the Mad Dog cream sauce and season to taste. Mix until fully incorporated. Set slaw aside.
Heat the oil in a wok or pot over high heat.
In a large bowl, combine the flour with the spices and baking powder. Mix well, then add beer and stir well. Dip the shrimp into this batter and coat well.
When the oil is hot, fry the shrimp in batches for about 3-4 minutes, until golden brown. Remove cooked shrimp to paper towel-lined plates.
To serve, lay out tortillas, top with the shrimp, slaw, additional toppings, and, finally, a good drizzle of Mad Dog cream sauce. Don't forget an extra drizzle of Mad Dog 357 Pure Ghost Hot Sauce for those that can handle the heat.