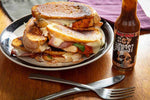 There are few things better than oozy, gooey grilled cheese sandwiches.
This is one of those things; it's not just a grilled cheese sandwich – it's got your fave pizza flavors tucked inside too. Better still, we've raised the bar more notches than we can count with our Mad Dog 357 Pure Ghost Hot Sauce.
It's hot. It's spicy. It's cheesy and meaty. It's fast. And, it totally fills the craving for grilled cheese and for pizza.
Basically, this Ghost Pizza Grilled Cheese is perfect.
Serves: 4
You'll need:
1 teaspoon Mad Dog 357 Pure Ghost Hot Sauce
1 jar Pizza sauce
6 ounces Pepperoni slices
1 cup fresh basil
1 pound Mozzarella, sliced
8 slices Sourdough bread
3 tablespoons butter, melted
Preparation
Heat a large cast-iron skillet or griddle over medium heat. Combine the Mad Dog 357 Pure Ghost Host Sauce with the pizza sauce. Divide and spread this sauce over all 8 slices of bread. Top half the bread with the pepperoni, basil, and cheese; place the remaining bread slices (sauce-side down) on top of the loaded slices. Brush the butter on the outsides of the sandwiches and cook on preheated skillet or griddle, until each side is toasted and the cheese is melted.