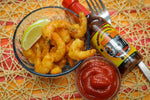 Fried shrimp is perhaps the most perfect snack or easy supper for last-minute holiday madness. It's quick and deceptively easy to prepare.
Better still, when you add in the heat of our Mad Dog 357 Original Hot Sauce – yes, right there in the crispy-fried coating, it's better still.
The one thing you need to watch out for (no, not the heat, you're used to that – right?) is making enough to feed everyone who will be around to snag as many pieces as possible. This recipe serves 4 as it's written. If you have more to feed, why not double the recipe – or at least the amount of Mad Dog beyond the heat points of mere mortals.
You'll thank us for that suggestion when you get a taste of this delicious recipe.
Ingredients
2-3 tablespoons Mad Dog 357 Original Hot Sauce
2 cups Buttermilk
2 cups all-purpose flour
¼ cup Cornmeal
1 tablespoon Baking powder
2 tablespoons ground black pepper
1 tablespoons Salt
2 pounds shrimp, peeled and deveined
Vegetable oil, for frying
Preparation
Preheat oil in a wok or deep pot to 350°F. Line a baking sheet with paper towels and set aside.
In a medium bowl, combine the Mad Dog 357 Original Hot Sauce with the buttermilk and set aside.
In a second medium bowl, whisk together all the dry ingredients and set aside.
Prepare the shrimp by dredging each piece through the dry mixture, shaking off the excess flour; then, dip it in the Mad Dog buttermilk mixture and return it to the flour mixture for second dredging. Shake off the excess flour and set aside. Continue until all shrimp are coated.
When the oil is hot, deep fry the shrimp in batches (if you add too much, the temperature will drop too suddenly, and you'll have soggy shrimp, not crispy shrimp. Fry shrimp for about 2 minutes per batch, then remove from the oil with a slotted spoon and then drain on the prepared baking sheet.
Serve hot