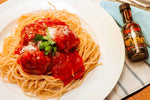 October is National Pasta Month
And there's no reason to settle for the ordinary with this recipe. Yes, it's a classic, but we've updated the sauce with some Mad Dog 357 Revenge Habanero and Pepper Extract. (Feel free to add as much as you want – it all depends on how hot you can handle it!)

Don't be intimated by the long ingredient list – you probably have most of these items kicking around your kitchen already. And, this wonderfully spicy spaghetti and meatballs recipe will convince you that you should always have these ingredients at home.

And, it cooks up faster and easier than you would think, which means there isn't any reason to walk away from this classic pasta dish. Better still, it's perfectly balanced between flavors you already love in a tomato-based pasta, with the heat of the habanero pulling out the very best of the meat. It serves 2-4 people, depending on how much you're prepared to pile on a plate – and after setting aside some leftovers for the office.
Trust us, you'll want them.

Ingredients
For the meatballs
½ cup Parmesan, grated
½ cup Bread crumbs
½ teaspoon Onion powder
2 teaspoons Kosher salt
Black pepper, freshly ground, to taste
¼ cup Parsley leaves, chopped
1 pound Ground beef
1 pound Ground pork
2 each Eggs, beaten
2 cloves Garlic, minced
¼ cup Vegetable oil

For the spicy sauce and spaghetti
2 tablespoons Olive oil
½ cup Onion, chopped
½ cup Green bell pepper, chopped
2 cloves Garlic, minced
Salt and black pepper, to taste
1-2 drops Mad Dog 357 Revenge Habanero and Pepper Extract (more if you can handle it)
1 teaspoon Dried oregano
½ teaspoon Cayenne pepper
1 can (28oz) Crushed tomatoes
1 teaspoon Sugar, optional

To serve
1 pound Spaghetti, cooked al dente
Parmesan, grated, to garnish

Preparation
Preheat your oven to 375ºF.

Make the meatballs first: combine all the ingredients for the meatballs, except the oil in a large mixing bowl. Roll into 8 meatballs (or 16 if you want smaller meatballs, but you'll need to reduce the cooking time by one-third).
Heat the oil in a large, oven-safe skillet. When hot, add the meatballs and sear on all sides until just browned. When all sides of meatballs are browned, place the skillet in the oven and roast for 15 minutes, until cooked through.
Next, make the sauce: place another skillet on the stove and heat the oil over medium heat. Add the oil, onion, bell pepper and garlic. Season with salt and pepper, to taste and then cook, stirring occasionally until tender.
Add the Mad Dog 357 Revenge Habanero and Pepper Extract with the remainder of the sauce ingredients. Bring to a slow boil and cook for 20 minutes, stirring occasionally.
To serve, divide the cooked pasta between plates, top with meatballs and sauce and top with a sprinkling of Parmesan. (May we also suggest placing a bottle of your favorite Mad Dog hot sauce on the table too?)