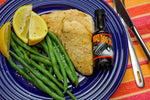 Now c'mon, you know you needed this recipe.
It's just as easy as it is quick and it's hotter still. Indeed, we're not sure you'll ever make chicken any other way once you try this.

And, we know you won't believe that you can make this in 5 minutes. But, you absolutely can. There's truly nothing about this recipe for 4 that won't bowl you over, including the heat.

Need something more to sway you to make this? How about National Microwave Oven Day on December 6th? No, how about the fact that you've probably got everything you need already on hand – well, as long as you've got a Mad Dog extract on hand.
If you don't; get one now… like right now.


Ingredients
a few drops Mad Dog 357 5 Million Scoville Extract
3 tablespoons Soy sauce
4 Chicken breast halves, boneless and skinless
½ teaspoon Garlic powder
¼ teaspoon Pepper
½ cup Parmesan cheese, grated

Preparation
In a small bowl, combine the Mad Dog 357 5 Million Scoville Extract with the soy sauce. Set aside.

Place the chicken in a small microwave-safe dish (if the edges of the chicken are just touching, it's the right size).

Top with the Mad Dog soy sauce, then sprinkle over the remaining ingredients. Cover the dish and place in the microwave. Cook on high for 5 minutes, or until cooked through (cut into a piece to ensure there's no pink left in the middle).