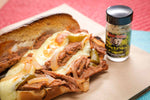 Sometimes, all it takes is a little slow cooking to release the sweet heat of Mad Dog 357 Yellow Cake Powder.

And, we're certain you're going to love the fire it adds to a traditional Italian beef sandwich. (We apologize in advance for spoiling your favorite deli for you.)

In second place (to that sweet hot heat) is the delicious ease of this recipe. Slice a few veggies, pour over some sauce and you're basically done.
Slow cooked beef + cheese + Mad Dog… what more could you want?


Serves: 10
You'll need:
1 teaspoon Mad Dog 357 Yellow Cake Powder
1 teaspoon each: salt, pepper, Italian seasoning
4 pounds beef chuck roast, deboned and trimmed
2 each: sliced green bell peppers, sliced onions, minced garlic cloves
15 ounces tomato sauce
To serve: crusty sandwich rolls, Provolone cheese

Preparation

Combine the Mad Dog 357 Yellow Cake Powder with the other seasonings and pat the sides of the roast with it. (Warning: wear gloves; the Yellow Cake carries some serious heat!) Place the roast in a slow cooker and top with the bell peppers, onions and garlic. Pour over the tomato sauce. If the tip of the roast is exposed, add enough water to cover. Place the lid on the slow cooker and cook for 5-6 hours on high (or 10-12 hours on low).

When the roast is ready, remove from the slow cooker and roughly shred it. (It should basically be falling apart already.)

Place shredded beef and veggies on sandwich rolls and top with cheese. If desired, place under the grill for few minutes to melt the cheese. Serve hot with more Mad Dog hot sauce on the side.