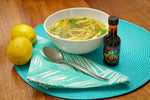 This soup has it all.
It's super easy to make, has a terrific bite that doesn't overpower the other flavors, it's gluten-free, and it's ready in 15 minutes. As it's written here, this recipe makes enough soup for two people. But let's be honest, you want to make a double batch.
It freezes nicely and you'll be craving it before you know it.


Ingredients
1 large Chicken breast
1 drop Mad Dog 357 Revenge
4 cups Chicken broth
½ clove Garlic, crushed
1 large Zucchini
½ tablespoon Lime juice, freshly squeezed
2 teaspoons Fresh cilantro, chopped
2 wedges Lime

Preparation
Cut the chicken breast into slices and place in a pot over a medium-high heat. Add the Mad Dog 357 Revenge, chicken broth, and garlic. Stir and allow this mixture to boil, then reduce the heat and allow to simmer until the chicken is cooked through.

Meanwhile, use a spiralizer, julienne slicer, or your regular veggie peeler to slice the zucchini into ribbons (AKA zoodles). Once the chicken is cooked though, add these zoodles and lime juice to the soup. Simmer for an additional 3 minutes. Serve divided between bowls, topped with the cilantro with a wedge of lime on the side.