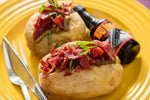 Eating on a budget doesn't mean you need to sacrifice flavor.
You can eat well with just a few bucks – and a bottle of Mad Dog. It's true.

The heat will definitely make you feel fuller faster. Plus it makes just about every meal into an event – especially when you're working with a super extract, like we've done here.

Don't worry, the potato flesh, mixed with the creaminess of the avocado and sour cream balance the heat (a little) and the garlic adds a special touch that will keep you digging into these potatoes until they've disappeared.

And, that bacon? Well, everyone needs bacon, right? And it goes oh-so-well with a potato and hot sauce.

This recipe is remarkably easy, though you do need to spend some time to bake the potatoes. That said, as long as you keep the toppings in a separate container, you can make these ahead and pack one into your lunchbox to avoid the noontime urges for takeout. Just add a squeeze of lemon juice to the avocado mash and you'll be ready to go.

Just don't overdo it on the extract, or you'll be hopping through the rest of the day.
Wait, maybe that's a good thing.
Ingredients

4 large Potatoes
1 teaspoon Olive oil
3 rashers Bacon, chopped
1 medium Avocado
1 drop Mad Dog 357 Pepper 5 Million Extract
1 clove Garlic, crushed
¼ cup Sour cream
Scallions, sliced, to serve

Preparation

Preheat your oven to 375ºF.

Scrub the potatoes and pierce the skin in several places. Place potatoes directly on an oven rack in the middle of the oven. Bake for about an hour, or until the potatoes are tender.

Meanwhile, heat the oil in a pan and add the bacon. Cook, stirring occasionally, until crisp, then remove from the heat and drain on paper towel.

Place the avocado in a bowl with the Mad Dog 357 Pepper 5 Million Extract, garlic, and sour cream and mash and mix until creamy.

When the potatoes are ready, scoop the Mad Dog avo mix between the potatoes, top with the bacon pieces. Sprinkle over the scallions and serve immediately.