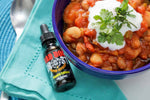 There's no reason to trade incredible flavor when you're trying to cut excesses from your diet.
Okay, okay, we know you believe the alcohol in this vegetarian chili doesn't seem terribly healthy, but most of the alcohol content boils off so you're just left with the incredible flavor. And yes, it's true, cutting meat from your diet, even one day a week, will do wonders for weight loss and heart health. So will the capsaicin in the Mad Dog 357 Ghost Pepper Tequila Edition Extract.
Go on, you know you want to give this meal for four a go tonight.


Ingredients
2 tablespoons Olive oil
1 stick Celery, finely chopped
2 large Onions, finely chopped
2 each Bay leaves
2 cloves Garlic, crushed
1-2 tots Tequila
1 can (28 oz) Diced tomatoes
2 cans (14 oz) Beans (use a combination of beans for the best flavor), drained and rinsed
Mad Dog 357 Ghost Pepper Tequila Edition Extract
½ cup Natural yoghurt
handful fresh Cilantro, chopped

Preparation
Heat the olive oil in a pot over a medium-high heat. Add the celery, onions, and bay leaves to the pot and cook until the vegetables are soft. Add the garlic and cook for 30 seconds, then add the tequila (to taste). Allow the alcohol to bubble and reduce slightly, then add the tomatoes and beans. Add Mad Dog 357 Ghost Pepper Tequila Edition Extract to your liking (or feel free to add a single drop of a hotter extract). Stir to combine, cover the pot and reduce the heat to medium-low. Cook for 30 minutes (adding a dash of water if the mixture becomes too thick). Remove the bay leaves and ladle into bowls, top with yogurt and cilantro.