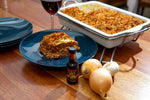 Alright, we know lasagna is a winter dish.
But you crave it all year long, don't you? And this is one that you won't be able to get over quickly. We've added Mad Dog Revenge Habanero and Chile Extract to make this one irresistible. Now, this dish is based on a classic, Italian styled lasagna, so you may feel there simply isn't enough cheese to go around. Trust us, you won't need it.
What will you will need is to make two at once so you have one sitting in the freezer waiting for you.


Ingredients
For the ground beef:
2 medium Onions, finely chopped
2 large Carrots, finely chopped
4 cloves Garlic, minced
2 tablespoons Olive oil
2 pounds Ground beef (up to 2 pounds, 3 ounces)
leaves from 2 sprigs Thyme
1/2 cup Dry red wine
1 tin Italian chopped tomatoes
1 cup Beef stock
1 tablespoon Tomato paste
1-2 drops of Mad Dog Revenge Habanero and Chile Extract

For the white sauce
2/3 stick Butter
2/3 cup Flour
2 cups Milk

You'll also need
10 sheets of Lasagna (more or less depending on size)
3 1/2 ounces Parmesan cheese, grated
paprika, to sprinkle
3 1/2 ounces Breadcrumbs
Sea salt and freshly ground pepper, to taste

Preparation
In a large frying pan, heat the olive oil over a low heat. Add the onions, carrots and garlic and cook for about 5 minutes, until softened. Increase the heat to medium and add the ground beef. Cook until browned. Then, add the thyme and red wine and cook for 1–2 minutes. Stir in the tomato purée, canned tomatoes, beef stock, tomato paste and season to taste. Simmer for 45 minutes to 1 hour, then stir in the Mad Dog Revenge Habanero and Chile Extract.

Preheat the oven to 400°F.
To make the white sauce, melt the butter in a pan over a low heat, and then whisk in the flour and cook for 1 minute. Slowly add the milk, a little at a time, and whisk into the flour mixture until smooth.

Simmer for a further minute, stirring continually.
To assemble your lasagna for baking, place a layer of the ground beef mixture into the bottom of an ovenproof dish, and then top with a layer of pasta and white sauce. Repeat until the dish is full, finishing with a layer of white sauce. Sprinkle over the cheese, paprika and breadcrumbs.

Bake for 25–30 minutes until the top layer is golden.