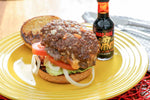 This is how you get dad to grill on Father's Day.
Seriously. These temptingly juicy burgers have all their cheesy goodness on the inside. Just one bite of this satisfying burger and you'll be addicted (so will dad). Now, you will need to craft these for him – at least once…
But next year, he'll crave these burgers enough to make them all on your own.


Ingredients
several drops Mad Dog Revenge Habanero & Chile Extract
½ cup Cheddar cheese, shredded
1 tablespoon Tomato juice
1 clove Garlic, minced
¼ teaspoon cumin
Salt and pepper, to taste
1½ pounds Ground beef
4 each Hamburger buns, split
Lettuce, onions, tomatoes, mayo, ketchup, and plenty of Mad Dog, for serving

Preparation
Combine the Mad Dog Revenge Habanero & Chile Extract with the cheese, tomato juice, garlic, and cumin. Season with salt and pepper, and set aside.

Shape the beef into 8 hamburger patties. Divide the Mad cheese mixture into 4 portions and press into 4 of the hamburger patties. Add a few more drops of Mad Dog Revenge Habanero & Chile Extract, then press the remaining 4 patties onto the tops of the cheese-topped ones. Press the edges to seal.

Cook the burgers on the grill or under the broiler for about 7 minutes, turning once for medium to medium-rare.

Serve with your favorite toppings and plenty more Mad Dog.