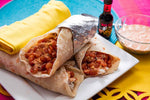 If you're going to celebrate Cinco de Mayo
You're going to need some Tequila and these shrimp burritos. And, when we say need, don't think of it as a suggestion. It's much closer to a command.

The way our Mad Dog Revenge Extract blends with both the shrimp during the marinade process – and with the avo and sour cream will completely blow your mind… you know, in a good way. But that does mean, you shouldn't skip the pre-cooking marinade step.

And, don't be surprised when this recipe for 4 is gobbled in minutes.


Ingredients
for the Marinade
a few drops Mad Dog 357 Revenge Habanero and Chili Extract
1 tablespoon Adobo sauce
1 clove Garlic
1 tablespoon Honey
2 tablespoons Olive oil
½ teaspoon Cinnamon

1 pound Shrimp, shells and tails removed
for the Mad Dog avo crema
a few drops Mad Dog 357 Revenge Habanero and Chili Extract
2 each Avocado, ripe, pitted and peeled
½ cup Sour cream
1 can (15 oz.) Enchilada sauce

for the rice
1½ cups White rice, uncooked
½ cup Cilantro leaves, plus extra for garnish
1 each Lime, juiced

1 tablespoon Olive oil
4 large Flour tortillas, warmed

Preparation
Place a few drops of Mad Dog 357 Revenge Habanero and Chili Extract along with the remaining marinade ingredients in a food processor or blender and pulse until smooth. Pour into a bowl or Ziploc bag with the shrimp and place in the fridge and allow to marinate for 1-2 hours.

Don't clean out your food processor. Instead, add a few more drops of a few drops of the Mad Dog 357 Revenge Habanero and Chili Extract and other ingredients for the Mad Dog avo crema and pulse to combine. Refrigerate this sauce until ready to use.

Cook the rice according to package instructions, then fluff and add the lime juice and cilantro leaves.

When the shrimp are ready, heat the remaining tablespoon of oil in a cast-iron skillet over medium-high heat. Cook the shrimp in batches (don't crowd the pan or your shrimp will turn out rubbery). Cook for about 4 minutes, stirring regularly until cooked through.

Assemble the burritos by dividing the rice between tortillas, topping with the shrimp, and some of the Mad Dog avo crema. Roll into burritos, top with additional Mad Dog avo crema and enjoy.