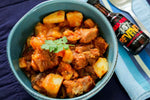 Got a long day of post-holiday organizing ahead of you?
How about a little overtime to get ahead so you can take an extra leave day when it counts? This time of the year is filled with such long hours – and there's nothing better than coming home to a hot bowl of stew – especially when it's spiced to the brim with Mad Dog extracts.

This recipe is your reward for all the hard work you put in. Apart from a little chopping, it's deceptively simple – there's no need to pre-brown the beef or any such nonsense. Yep. That easy.

Even better are the flavors; you just can't beat the way the Habanero & Chile Extract seeps into the potatoes and carrots over hours of slow cooking. It's rather addictive and you may just find yourself cooking veggies this way all winter long.

We love the way the flour thickens this stew, making it easy to enjoy without any rice or pasta. All you need is a loaf of crusty bread – and maybe an extra drop of Mad Dog Revenge Habanero & Chile Extract and you've got it made. We absolutely recommend a good Merlot and putting your feet up as you tuck into this dish.


You deserve it.


Ingredients
3 sprigs Thyme, leaves only, chopped
1/3 cup All-purpose flour
¼ teaspoon Ground allspice
½ teaspoon Kosher salt
¼ teaspoon White pepper
2 pounds Beef stew meat, cut into 1½" cubes
1 pound Potatoes, peeled, quartered
3 medium Carrots, cut crosswise into thirds
1 clove Garlic, minced
1-3 drops Mad Dog Revenge Habanero & Chile Extract
½ cup Water
2 teaspoons Worcestershire sauce
1 can (10 oz.) Diced tomatoes
4 each scallions, sliced

Preparation
In a large bowl, combine the thyme leaves with the flour and spices. Add the beef and toss to coat. Place the beef, along with the vegetables in your slow cooker, reserving the excess flour.

Whisk the Mad Dog Revenge Habanero & Chile Extract with the water, Worcestershire sauce, and the reserved flour and pour into the slow cooker along with the tomatoes. Cover and cook for 7-8 hours on low or 3-4 hours on high. Add the scallions just before serving – and perhaps a few more drops of the Mad Dog Revenge Habanero & Chile Extract. Serve hot.