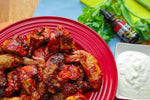 These wings are truly wicked
And maybe the best way to enjoy chicken – whether you eat them on National Chicken Wing Day (July 29th) or not. And they're so amazingly delicious, that we don't see the point in waiting.

While this recipe (which serves roughly 8 to 10 people) does require the extra step of reducing the marinade, it's 100% worth it and a step that shouldn't be missed.

In fact, we'd take it one step further and add a few extra drops of our Mad Dog Tequila Ghost Extract to these chicken wings just before serving, but maybe that's just us… Nah, it's something you absolutely need to do.
Trust us.


Ingredients
3 pounds Chicken wings
1 tablespoon Olive oil
Celery salt and black pepper, to taste
Mad Dog 357 Tequila Ghost Extract, to taste
3 cups Tomato juice
2/3 cup Vodka
3/4 cup Brown sugar
1 tablespoon Horseradish
1 tablespoon Worcestershire sauce
1 each Lemon, juiced

Preparation
Place the wings in a large mixing bowl and drizzle with the oil. Season with the celery salt and pepper and toss to coat. Set aside.

In another mixing bowl, combine the Mad Dog 357 Tequila Ghost Extract with the remaining ingredients and whisk until fully combined. Pour this into the chicken wing bowl and stir to ensure chicken pieces are coated and covered. Place this bowl in the fridge to marinate for about an hour.

Preheat your oven to 425°F. Line a baking sheet with baking paper or aluminum foil and set aside.

When they're ready, use tongs to lift the wings onto the baking sheet, draining the excess Mad Dog mix as you do so. (Reserve the marinade.) Place the baking sheet in the oven and bake for 40-45 minutes until cooked through and crispy.

Meanwhile, pour the remaining marinade into a saucepan and cook over medium heat until it's reduced by half. When the wings are crispy, brush this sauce over them and broil on high for another 5 minutes.

Consider serving with a dip of sour cream mixed with horseradish and plenty more Mad Dog 357 Tequila Ghost Extract.