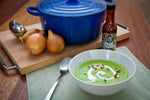 This incredibly fast soup heats up quickly
It is just as good lukewarm as it is piping hot. That makes it one of our favorites for those rainy summer days when it's not quite hot, but not cold enough to spend hours in front of the stove either. And, if you can get your hands on fresh summer peas (rather than the frozen kind, which will work in a pinch) you won't believe the flavor exploding in your mouth. That's all before the Mad Dog 357 Ghost Pepper Sauce which will keep you coming back for more.
So, while this recipe makes enough for four people, you may just want to double it.
Ingredients
1 pound fresh peas (or frozen, if necessary)
2 tablespoons Butter
1 large Onion, finely chopped
2 cups Vegetable (or chicken) stock
a pinch of Sugar
salt and pepper, to taste
2/3 cup cream or whole milk, with extra cream to serve
6 rashers of bacon, fried and crumbled
½ -1 tsp of Mad Dog 357 Ghost Pepper Sauce, to taste
 Preparation
Melt the butter in a large saucepan, add the onion and cook for a couple of minutes until softened. Add about half the bacon, then pour in the stock and bring to a boil. Add the peas and the sugar and allow to boil for about three minutes then add salt and pepper to taste. Pour in the Mad Dog 357 Ghost Pepper Sauce. Remove from the heat and blitz in a liquidizer (or with a hand blender) until the soup is smooth. Return to the burner, add cream, and allow the soup to heat through.
Serve with a dash of cream swirled in the center and sprinkle with crispy bacon.