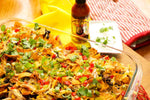 We don't suggest waiting until National Nachos Day on November 6th to enjoy these Mad Dog nachos.
These are way too good to wait for.
There's just something about the way our Gold Edition Hot Sauce lends itself to the chicken when combined with the lime juice. It's not just hot; it's electric. By the time you add the cheese and beans, you've got something you just can't miss.
In principle, you can feed about 8 people with this recipe, but we think there'll be a number of folks that won't share.
Ingredients
½-1 teaspoon Mad Dog 357 Gold Edition Hot Sauce
1 Lime, juiced
Salt and pepper, to taste
2½ cups Shredded rotisserie chicken
1 tablespoon Vegetable oil, divided
2 Red bell peppers, diced
1 Green bell pepper, diced
1 can (15 oz) Black beans, drained
1 clove Garlic, minced
1 teaspoon dried oregano
¼ teaspoon Ground cumin
7-8 cups Tortilla chips
8 ounces pepper jack cheese, shredded
¼ cup Green onions, thinly sliced
½ cup Fresh cilantro, minced
1 cup Sour cream
Preparation
Preheat your oven to 350°F. Grease a 13×9″ baking dish and set aside.
In a mixing bowl, combine the Mad Dog 357 Gold Edition Hot Sauce with the lime juice, salt, and pepper. Add the shredded chicken to the mixing bowl and toss well to spread the heat through the chicken.
Heat half the oil in a large skillet over medium heat. Add the peppers and sauté for about 3 minutes until they become crisp-tender. Remove the peppers from the skillet and transfer to a small bowl.
Add the beans, garlic, oregano, and cumin to the skillet and cook until heated through about three minutes. Remove from the heat.
Place half the tortilla chips in the bottom of the baking dish, layer over half the peppers, bean mix, Mad Dog chicken, cheese, green onions, and cilantro. Beginning with the tortilla chips, repeat the layers.
Place the baking dish in the oven and bake, uncovered, for 15-20 minutes, until the cheese is melty. Serve with dollops of sour cream on top and a few more drops of the Mad Dog 357 Gold Edition Hot Sauce.