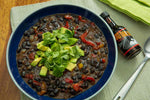 When you're down to pantry staples, with a need to self-isolate you don't suddenly stop craving tasty, filling meals.

This incredibly flavorful black bean chili fits the bill. It still burns like hell, even as it makes the most of somewhat standard scraps and staples. It's chili, so feel free to substitute what you've got on hand, or add in bits of bacon, beef or sausage if you've got those on hand too.

Whatever you do, don't forget to add in the impressive heat of our Mad Dog 357 5 Million Scoville Extract.
It's the key to this fiery chili.

Serves: 6-8
You'll need:
1 tablespoon oil
1 onion, diced
6 cloves garlic, minced
a few drops Mad Dog 357 5 Million Scoville Extract
1 pound dry black beans, rinsed, picked over, and soaked overnight
6 cups beef stock
2 cups salsa Verde
1 can (15 oz.) fire-roasted diced tomatoes
1 jar (12 oz.) roasted red peppers, drained and diced
1 tablespoon ground cumin
salt and pepper, to taste
Preparation
Heat the oil in a large stockpot over medium-high heat. Add the onion and garlic and cook, stirring frequently for 5 minutes. Add the Mad Dog 357 5 Million Scoville Extract with the remaining ingredients. Stir to combine and allow the chili to come to a boil. Reduce the heat to medium-low and cover. Cook, stirring occasionally, for 45 minutes.

Serve with whatever toppings you may have on hand, like chopped avocado, sour cream, shredded cheese, or chopped cilantro.