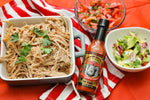 Nope, you've not tasted carnitas like this before.
We can promise that. In addition to a serious splash of Mad Dog 357 Gold Edition Hot Sauce, we've added a bottle of beer. But, of course, it's the super ease of this recipe for 6 that'll convince you to make it all year long.

Now, we do need to warn you about the heat levels in this - our Mad Dog 357 Gold Edition Hot Sauce is pure fire. You can go all-in if you want (we certainly do), but we understand if you've somehow forgotten just how freaking hot this stuff is!

It is, however, the ingredient that makes all the difference in this recipe. You'll believe it as soon as you taste it.
Ingredients
1-2 teaspoons Mad Dog 357 Gold Edition Hot Sauce, to taste
4 pounds Boston butt (pork shoulder) cut into large chunks (for ease of cooking)
1 bottle Lager (pick your favorite)
1 cup Water
4 cloves Garlic, minced
4 teaspoons salt


Preparation
In a large heavy-bottomed pot or Dutch oven, add the Mad Dog 357 Gold Edition Hot Sauce with the remaining ingredients.
TIP: you may want to start with 1 teaspoon, and reserve judgment on the 2nd until the meat is shredded.
Bring to a boil over high heat, then reduce the heat to medium-low. Cover the pot and allow to simmer for 90 minutes, stirring occasionally, until mostly fork tender.
Remove the lid and simmer for another 25-30 minutes, until the liquid evaporates.
If you like moist carnitas, remove the meat from the pot and shred with a pair of forks.
If you prefer drier, more traditional carnitas, continue to cook in the pot, scraping and shredding the meat while it browns. You may need to add another cup of water to prevent burning as you do so.
Either way, feel free to add more Mad Dog 357 Gold Edition Hot Sauce if you were cautious at the beginning of the cooking process.
Serve with tortillas and all your favorite toppings (perhaps try some of our Mad Dog
guacamoles
or salsas - they'll only make this carnitas better).