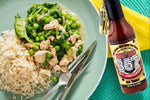 People say, "One of the top three things on the lists are money – spend less, save more".
That's what everyone wants, right?
Usually, the money resolution ties in perfectly with the desire to eat a little healthier (and possibly lose some weight).
This recipe does both – and it does it well. It will serve about four people, or you can hoard it (as you'll probably want to do). Yeah, yeah, we know, bacon isn't on everyone's list of healthiest foods. And, you can certainly skip it – and the cheese – if you want. But, we think this is the perfect way to ease into healthier foods just as it is.
Oh – and that inferno burn? Yep, that's exactly what makes this the gateway meal to eating healthier every day of the week. And, since the ingredients are super cost-effective… you're ticking two resolutions off your list in one go.
Now that's awesome.
Ingredients
5 slices Bacon
1 small Onion, chopped
2 cloves Garlic, minced
1 teaspoon Mad Dog 357 Pure Gold Hot Sauce
1 bunch Collard greens, stems removed and thinly sliced
Salt and pepper
¼ cup low-sodium chicken broth
1 can (14.5 oz) Peas, rinsed and drained
1½ cups Chicken breast, cooked and chopped
1 tablespoon White wine vinegar
Brown rice, cooked
Parmesan cheese
Scallions, sliced
Preparation
Cook the bacon until crispy in a large skillet over medium heat (about 8-10 minutes). Remove from the pan, crumble, and set aside. Drain most of the grease and add the onions to the pan. Sauté the onions in the bacon grease over medium heat for 4-5 minutes, until tender. Add the garlic and cook for another 30 seconds.
Stir in Mad Dog 357 Pure Gold Hot Sauce with the collards greens and season to taste. Add the chicken broth and cook, stirring occasionally until most of the liquid has evaporated, about 2-3 minutes. Stir in the peas and cooked chicken and continue cooking for a couple of minutes, until heated through. Add the vinegar, and adjust the seasoning to your liking.
Serve the Mad Dog chicken with the rice and the crumbled bacon, cheese, and scallions.