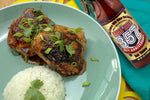 On those long, end-of-summer days when you're preparing to settle in for the winter.
There's nothing like a backyard luau to cheer you. The Hawaiians do it right with plenty of meat and a pinch of fire added to the Asian flavors they use in almost every dish. This chicken is sure to put a smile on the faces of six people this weekend.
Add a little more Mad Dog, they'll be ready to dance around the fire in no time.
Ingredients
3 pounds chicken thighs, bone-in
1-2 teaspoons Mad Dog 357 Gold Edition Hot Sauce
1 cup of Soy sauce
½ cup Sugar
2 tablespoons Honey
½ cup Chicken broth
1 teaspoon Hoisin sauce
Cilantro and Green onion, to garnish
Preparation
Place the chicken in a wire basket over a pot of boiling water and steam for half an hour.
Meanwhile, combine Mad Dog 357 Gold Edition Hot Sauce and the remaining ingredients for the sauce and simmer for 15 minutes. When chicken is ready, place it in the sauce and simmer for 5 minutes on each side until chicken is well coated. To serve, arrange the chicken on a platter and garnish with cilantro and green onion.