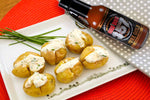 Wow do we love this mix of baby potatoes and Mad Dog.
No really. It's fair to say we're addicted. Whether you serve them on the table for Christmas lunch or they're on trays at a cocktail party, they're sure to be a hit. They're incredible and worth the baking time without a doubt. Now, you could substitute another hot sauce for this if you want a little more kick. But if you really want to take this dish to the next level, sprinkle with fried, crumbled bacon. You should feed four to six people with this, but work on four if you're serving canapés – people will get greedy over them.
Ingredients
1 pound New potatoes
1 tablespoon Olive oil
Sea salt, to taste
1 tablespoon Mad Dog 357 Pure Gold Hot Sauce
5 tablespoons Sour cream
Freshly ground black pepper, to taste
small bunch chives, snipped
Preparation
Heat your oven to 375ºF. Line a baking sheet with foil or baking paper.
Prick the potatoes with a fork, rub with the oil, then toss with sea salt. Arrange on the baking sheet and bake for 1 hour.
Let the potatoes cool for 10-15 minutes, then cut a small cross in the top of each and pinch the bases to open like a flower.
Combine the Mad Dog 357 Pure Gold Hot Sauce, sour cream, black pepper, and chives in a bowl then top each potato a heap of this mixture. Serve hot!