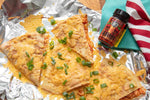 It's hard to pass up those rotisserie chickens at the grocery store.
It's even harder to pass on extra cheesy Tex-Mex, especially when it has a Mad Dog bite on it.

We've put the two together to make your life as easy, delicious and hot as it can be.

Now you'll always know what to do with that bird you bought.
You always knew what to do with our Mad Dog 357 Pepper Puree, right?


Serves: 4-8
You'll need:
2 tablespoons Mad Dog 357 Habanero Pepper Puree
2 cups rotisserie chicken, shredded
2 tablespoons sour cream
3-4 cups cheddar cheese, shredded
4 teaspoons oil
4 large flour tortillas
chopped cilantro or green onions, to garnish
preheated broiler and a baking sheet lined with baking paper or foil

Preparation

Combine the Mad Dog Habanero Pepper Puree with the chicken, sour cream and half the cheese in a large mixing bowl.

In a large skillet, heat a teaspoon of the oil over medium heat. Place one tortilla in the skillet and top half of it with about a quarter of the of Mad Dog chicken. Fold the tortilla over the filling and cook for about 2 minutes, until the underside is browned. Flip the quesadilla and cook until just set, about 30 seconds.

Transfer quesadilla to the prepared baking sheet, with the browned-side down.

Repeat with the remaining tortillas. When all the quesadillas are on the plate, sprinkle over the remaining cheese and place under the broiler.

Cook until the cheese topping is melty. Sprinkle over garnish and serve hot with your favorite Mad Dog 357 hot sauce on the side.