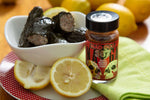 We've added a Mad Dog twist to this Mediterranean favorite
And the blend of heat and flavor is incredible.

There's nothing like a new twist on an old classic. It's even better when you didn't realize just how much you loved the original. With this in mind, we've added the heat of our Naga Morich Pepper Puree to a traditional Mediterranean appetizer.
Give it a go, you're not going to regret it for a second.


Serves: 8-10
You'll need:
1 jar (16 oz.) grape leaves in brine, drained
1½ cup short grain rice
2 tablespoons olive oil, divided
1 onion, diced
¾ pound ground beef
salt and pepper
1 teaspoon allspice
½ teaspoon cumin
½-1 teaspoon Mad Dog 357 Naga Morich Pepper Puree
½ cup each: fresh parsley, fresh dill, and fresh mint, chopped together
4 cups chicken broth
2 lemons, juiced

Preparation

Soak the rice in water for about 20 minutes, until the grains break easily. Drain and place in a large mixing bowl.

Meanwhile, heat half the olive oil over medium-high heat. Add the onions and cook for 3-4 minutes until just translucent. Add the beef and cook, stirring regularly, until evenly browned. Season with the salt, pepper, allspice and cumin. Remove from the heat and allow to cool, then add to the mixing bowl with the rice.

Add the Mad Dog 357 Naga Morich Pepper Puree along with the herbs to the mixing bowl, and mix until everything is well-combined.

Line the bottom of a large heavy-bottomed pot or skillet with the remaining olive oil and then a few layers of vine leaves. Set aside.

Roll out and fill the vine leaves with the ground beef and rice mixture by scooping a tablespoon of filling onto the leaves and then rolling like a burrito or egg roll. Place each rolled vine leaf on top of the layers at the bottom of your pot. Continue stuffing and rolling until you're out of filling.

Pour over the chicken broth and place the pot on a burner over medium heat. Cover with a lid and cook for 30 minutes, or until all the liquid is absorbed. Then, squeeze over the lemon juice, recover your pot and continue cooking for another 30 minutes.

Serve hot or at room temperature, with extra lemons for squeezing and your favorite Mad Dog 357 Hot Sauce for heat.