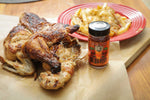 Fiery chicken in a flash.
Okay, you really need to take time to marinade the chicken – and the longer you leave it to soak, the more flavorful it'll become. It's our Mad Dog Habanero Pepper Puree, to be sure, but it's the whole mix.

And, you'll spend mere minutes making it all happen. It's supper swiftly sorted and with all the heat you've come to expect...
From every Mad Dog moment in your life.
Serves: 4-6
You'll need:
2 teaspoons Mad Dog 357 Habanero Pepper Puree
1/3 cup vegetable oil
3 tablespoons each: Worcestershire sauce, minced garlic
1 tablespoon onion powder
2 teaspoons each: lemon juice, salt, mustard
1 whole butterflied chicken
Preparation
Combine the Mad Dog 357 Habanero Pepper Puree with all the other ingredients except the chicken in a casserole dish. Whisk until well combined. Add the chicken and rub the marinade over the chicken. Cover and place in the fridge for several hours, turning every 2 hours.

Remove the chicken from the fridge and heat your oven to 450°F. When the oven is hot, place the casserole dish in the oven and cook for 1 hour, until cooked through, flipping halfway through. Serve hot with your favorite sides.